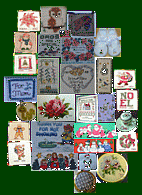 One of my favorite hobbies is needlework.  I especially enjoy counted thread work such as cross stitch, blackwork, and hardanger.  The picture to the left is a montage of some of my work.
I am a member of the The Embroiderers' Guild of America.  My local chapter is called
Muchas Manos de San Diego.  We are in the Pacific Southwestern Region.